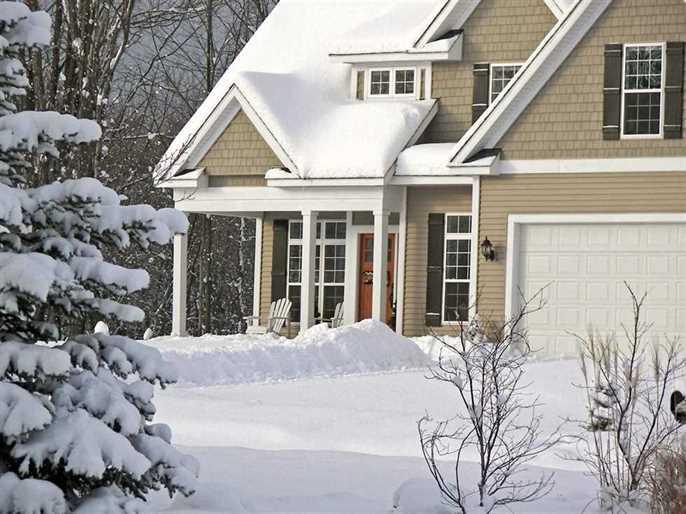 As this article is being written, it's -36 degrees celsius with the wind chill, and it was -40 earlier today. You're all probably experiencing the very same cold weather – it's not at all unusual in Manitoba. You know how important it is to protect yourself from the cold – it's almost as important to protect your home from the wintry woes. Here are 10 tips to help protect your home from cold weather – we could write a novel, so if you like this content, let us know and we'll do more.
Remove your window AC
Good old Manitoba: +30 in the summer and -30 in the winter. Most of us who aren't lucky enough to have central AC, use portable window units to keep cool during the summer months. They're a bit of a burden to take in and out of the window, but you shouldn't leave them there through the window. The cold can damage the AC unit, and they let cold air seep into your home. What's worse, snow piling onto the unit can cause it to crash out, damaging your home's siding.
Check your fireplace
Thankfully, no one was injured – over the weekend, there was a fire in Fort Richmond caused by a wood-burning fireplace. You can reduce the risk of damage to your home by getting a qualified inspector to check and clean your fireplace before you light your first fire in the winter.
Check your home for damage
You should check your home's foundation for cracks, and check your roof for damaged or missing shingles. As snow melts, water can enter your home from these weak points, causing water damage. A full inspection of your home can help you avoid some nasty problems!
Clean your gutters
When your gutters aren't properly cleaned, it can lead to ice dams. These ice dams can damage your gutters, and cause water to leak into your home. You'll want to clean them in the fall, before the first snowfall – it can be helpful to clear them of snow during the winter as well.
Get an energy audit
Energy audits can help you detect weak points in your insulation. Insulating properly helps you avoid over-the-top energy bills, but it can also help you prevent water damage. Points in your home where heat seeps out can cause ice and snow to melt, and that water can get through those very same weak points.
Insulate what you can
Once that audit is complete, you should insulate all the spots you can – for the exact reasons we just laid out. Don't neglect insulation for your doors and windows. Even if you don't have the cash to do a complete insulation reno, you can take steps to weatherstrip and caulk weak points near the openings into your home.
Those few Manitobans who have exposed outdoor plumbing should insulate those pipes, too.
Drain your outdoor faucets
A pretty straightforward process to avoid cracking your faucet – turn off your water main, go outside, turn all of your faucets on full blast, then turn them off when all of the water is drained out. After that, turn your main back on, and you're good to go. Consider getting an insulation cover for your faucets while you're at it.
Keep your home warm
You probably already know this, but just to be safe – your home needs to stay warm (well above freezing is best – 15+ degrees) all winter long. Leave your furnace running, even if you're on vacation – you don't want to deal with burst pipes when you get home! Have someone check on your house every day while you're away, too.
Trim tree branches
When there's too much weight on a branch (especially a dead branch), it can collapse onto your home – or your neighbour's home. Make sure to trim any tree branches that are straying a little too close to your home. Even a small branch can damage a window!
Go over your insurance plan
Even if you follow all the steps we just laid out, it's best to expect the unexpected. Call us to go over your Winnipeg home insurance plan – it only takes a few minutes to make sure you have all the protection you need.