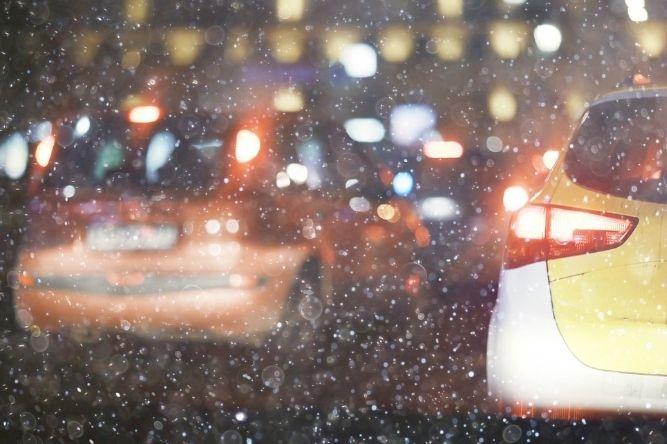 Most of us have a love/hate relationship with winter, but no matter where you find yourself on that spectrum at the time you're reading this, one thing is certain: winter driving is more dangerous than summer driving. 
We want to keep you safe this season, so we've compiled our 5 top tips to help you stay safe on the road this winter. Let's jump in:
Create a winter driving kit
From blizzards to black ice, there are plenty of hazards that can leave you stranded on the side of the road. While the rest of our tips will help you avoid worst case scenarios, a winter driving kit can be an invaluable tool to keep you safe in case of emergencies. 
Your winter kit should include all kinds of tools to help keep you on the road this season, from jumper cables to snow brushes. It should also include non-perishable food items, first aid kits, battery-powered phone chargers (with a fresh pack of batteries), and more. Check out the Government of Canada's Preparing an Emergency Kit for Your Car page for more recommendations. 
Switch to snow tires
Snow tires drastically improve handling and braking in the winter. They feature different rubber compounds which allow them to stay softer at low temperatures when compared to all-season or summer tires. That means snow tires are more readily able to grip to the road. 
They also feature grooves that direct water away from your vehicle. That can reduce the risk of skidding when you pass over ice. 
In Manitoba, you can even use studded winter tires between October 1st and April 30th. Studs are especially useful when you're driving through hard-packed snow and ice – they act like teeth to allow your tires to bite into ice and snow. 
MPI has a winter tire financing program to help make winter tires more affordable. If you've never used winter tires before, consider getting them this year.  
Put extra effort into vehicle maintenance
Vehicle maintenance is important year round, but it's especially important in the winter. When your battery dies in the summer, it's a nuisance – when it dies in the winter, it can be an emergency.
Take your vehicle for a full tune-up at the start of the season. Winter is the worst time to ignore a Check Engine light. You should also check your tire pressure twice a month, as well as after any drastic change in temperature. Cold weather reduces tire pressure, and good handling is incredibly important in the winter. 
Drive carefully
This might be the most obvious tip – and one of the most important! Go below the speed limit. Drive defensively, anticipating worst case scenarios. Plan your route well ahead of time, and allow for extra time to get to and from your destination. In other words, don't rush!
Make sure your car is clear of ice and snow. Learn how to control a skid – you can do this by reading online guides, or by hiring a professional to teach you. Keep a safe distance between you and the cars around you, and keep your headlights on when visibility is low.
Have a plan in case of emergencies
There are times when road conditions will get so bad that you absolutely should not drive. The best plan for emergencies is to avoid them altogether. If conditions look like they might get worse throughout the day, arrange for a place to stay if you can't get back home. Do this early in the day, before conditions start getting bad.
Even with ample planning, you may still find yourself stranded at the side of the road. To get help quickly, make sure you can contact people who can help you. You might consider a membership with an organization like CAA. You should also have emergency contacts who you can call if things go badly – let those contacts know that you're going to hit the road before you leave. 
And always make sure your cell phone is fully charged. 
We hope these tips help keep you safe this winter. Insurance can also help keep you safe by protecting you from the financial consequences of collisions. We're an insurance broker in Winnipeg, licenced to offer Autopac policies. You can get more info here about who we are and what we do.
Have a wonderful winter!