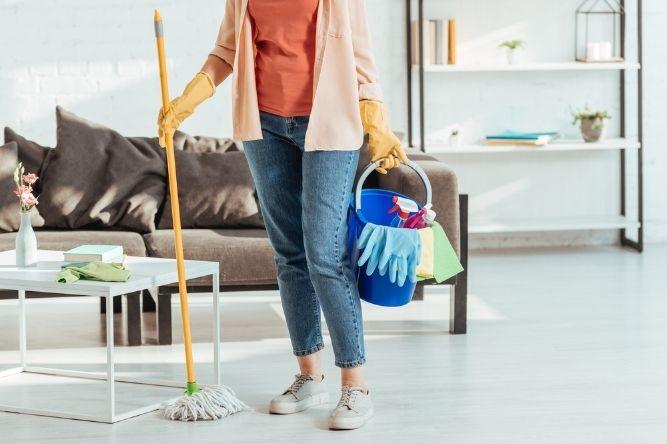 Spring has finally sprung here in Winnipeg – soon, the incredible amount of snow that got dumped on us this winter will be a distant memory, and we'll be able to enjoy the sun, beaches, warm air, and green trees.
Before you start making plans for your summer vacation, though, there's a pressing matter that needs to be addressed: Spring cleaning! It's a ritual of renewal – out with the old and in with the new is what spring is all about, after all. We love spring cleaning rituals, but we've noticed that in all of the frenzy to clean, a lot of people miss some things that could help them protect their homes.
That's what this article is all about: Spring cleaning tips designed for Winnipeg homes to help you avoid some of the most common spring insurance claims: 
Check Your Sump Pump
Spring in Winnipeg is mostly wonderful, but it comes with one problem that rears its ugly head for homeowners almost every year – basement flooding. Fortunately, most homes in Winnipeg have a sump pit and sump pump installed to prevent flooding. If you don't have one, it's something we highly recommend.
If you do have a sump pump, it's a great idea to test it during your spring cleaning. All you have to do is make sure the pump is plugged in, then slowly pour about 20 litres of water into the pit. If your pump activates, then you're in business – if not, it might be a good idea to call a plumber. Get more sump pump testing tips by following the link! 
Clean Your Gutters
Your gutters are probably filled with fallen leaves and other plant matter, much of which will be damp or rotting. That can lead to water damage – water that doesn't flow through your downspout may end up seeping through your roof or your foundation. By cleaning out your gutters, you can seriously reduce the risk of water damage! 
Take a Look at Your Roof
Roofs bear the brunt of most of the harsh forces that winter throws at our homes. From holding the weight of snowfall to withstanding battering winds, your roof can become damaged over the course of the winter – and that's without even mentioning ice dams! 
We're not suggesting you climb onto your roof – that can be dangerous – but take a look from the ground up and see if there are any signs of missing or damaged shingles. If you want to be extra cautious, call a roofer and ask them to do an inspection! 
Clear out Your Dryer Vent
When was the last time you cleared out your dryer vent? One year ago? Five years ago? Never? For most people, we're betting on never. Cleaning your dryer vent is oddly satisfying – and it can seriously reduce the risk of house fires. You're spring cleaning – it's finally nice enough to stay outside for a while – so we highly recommend cleaning your dryer vent!
Review Your Insurance!
Okay, so technically, this last one isn't spring cleaning – but in the spirit of renewal, we recommend reviewing your insurance policy to make sure it still fits your needs. Find a Reider Insurance location near you, get in touch with us, and we'll help you review your policy! 
Happy spring cleaning!