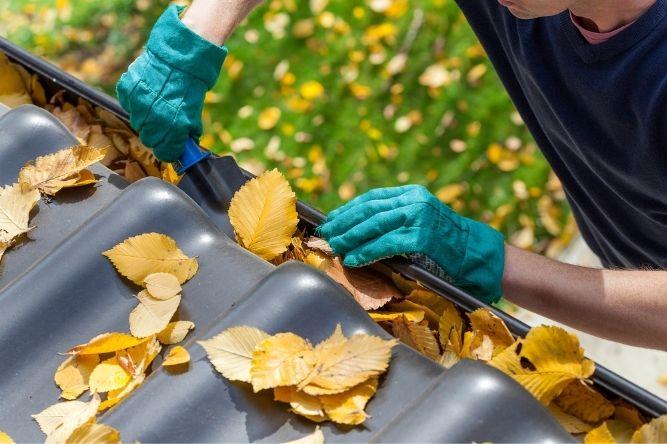 The leaves are changing, the geese are getting ready to migrate, and the temperatures are starting to drop. You know what that means –
It's Pumpkin Spice Season.
Seriously though, it's fall. And fall is one of the best times to inspect your home and do a little housekeeping. After all, you don't want to be doing manual labour outside in the wintertime. You already have to shovel your driveway – you don't want to have to get up on a ladder and unclog your gutters, too.
With that in mind, we've created a checklist for outdoor projects you should get done in the fall. Let's get started!
Inspect, clean, and repair your roof
Your roof is the first line of defence against snowfall in the winter – and it helps to protect you against the cold, too. Inspect your roof for any damaged or missing shingles, clear off any debris, and clean out your gutters. Check your chimney for blockages or damaged flashing, too.  Make repairs if needed. You don't have to do this yourself – you can hire a roofer to perform inspections and repairs for you.
Clean your downspouts
A corollary to cleaning your gutters – if your downspouts are clogged, your gutters will still get backed up. This is an easy job – get some gloves and reach in there, then once the bulk is gone, wash the downspout out with a hose. 
Check your foundation and walls
This is the perfect time to look for peeling paint, cracks in your foundations, and other problems around the sides of your home. Where necessary, do repairs – or hire someone to do them for you.
Check your windows, too
Your windows may be cracked, and the caulking around your windows may be worn. In either of these cases, you'll want to do the appropriate handiwork – otherwise, the cold will seep in through your windows! 
Put away your outdoor furniture
A pretty straightforward step – if there's anything you have outdoors that you don't want to get snow on, stash it. You should also put away any outdoor tools you won't be using in the winter – that is, after you've done the rest of this checklist.
Close your pool
We won't go into the nitty-gritty of pool closing procedure here, but unless your pool is somehow made to stay warm even when it hits -40 outside, it's a good idea to close it off.
Put away your sprinkler system
If you're done watering your lawn for the year, drain and dismantle your sprinkler system. While you're at it, put away your hoses, then drain and turn off your outdoor faucets.
Get your lawn ready for winter
Fertilize! Aerate! Cut your lawn short! It's essential to winterize your lawn if you want it to grow happy and healthy in the springtime. By winterizing, you make grass more resistant to cold and snow. 
Prune your plants
Your plants are no longer growing, so it's time to prune them. In the realm of home insurance, it's especially important to prune trees, so their branches don't fall on your home – or your neighbours' homes.
Do a final once over
Look for any items that you'd rather not leave out in the winter – extension cords, garden gnomes, cans of paint – whatever it might be. Put them away.
And that's it for our outdoor fall checklist! We hope you find it useful – winterizing in the winter can save you a lot of headaches.
You know what else can save you headaches? Doing a once-over on your Winnipeg house insurance policy! The fall is a great time to make sure you have enough insurance on your home, and to let your insurers know about any important changes to your household.