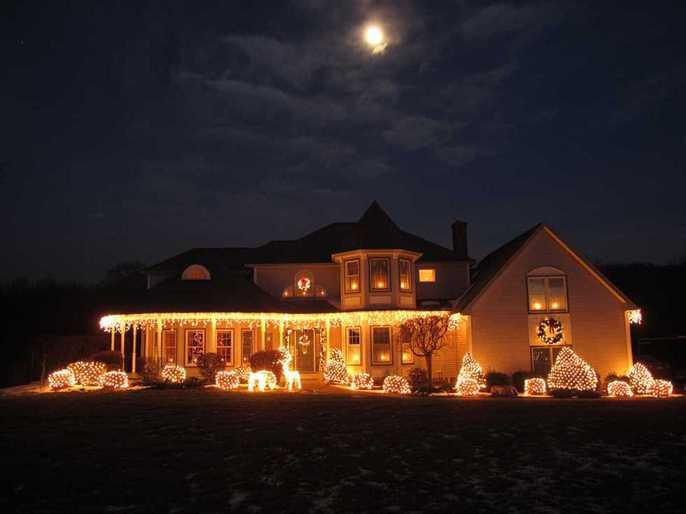 There's no place like home for the holidays – this year, that probably doesn't mean travel, but some years you might go back to your hometown. Either way, there are steps you can take to keep your home more secure during the season of celebration.
The Season of Lights
When the sun sets at 4 PM, it's no surprise that lights are a huge part of holiday culture in Winnipeg – and around the world. With lights, however, come a number of potential safety hazards. Here are some quick tips to keep you safe:
Be extremely careful when setting up lights in high places. Always have someone nearby to stabilize ladders that you're using, and never use the top step of a ladder. Be especially careful if you plan to go on the roof – there can be a lot of invisible ice.
Check strands of lights for any frayed wires, missing bulbs, and the like. Damaged lights are a fire hazard, and you should discard and replace broken strands.
Candles can add incredible ambiance, but they are lit flames – be cautious with them. Make sure to set them far away from flammable decorations like Christmas trees. On that note, water your Christmas tree regularly if it's natural – when they dry out, they become highly flammable.
A Time to Feast
The holidays are a time to indulge in incredible food. Big family meals may not be in store in 2020, but you're still likely to cook up something tasty. Tasty, as it were, often involves a lot of fat, and that brings us to our first tip:
Don't allow any grease or fat into your plumbing – you probably don't have a grease trap, so drain any grease, fat, and oil into a container. You can discard it or use it later.
Consider hiring a plumber to do a preventive inspection before the holiday season to ensure you won't end up with clogs at the worst possible time.
Those of you who have pets should be careful about what plants and foods you leave lying around – some of them are poisonous to animals, like mistletoe. Be mindful of where you discard certain treats, like chocolate.
Visiting Loved Ones
Soon, we'll be able to travel for the holidays again. When that time comes, there are some important steps you can take to keep your home secure:
Have someone visit your home every day. Make it look occupied – if possible, leave a car in the driveway, and have the person you trust pick up your mail and bring it inside. Basically, make it look like you're still at home.
When you don't have someone checking on your home every day, be sure to turn off your water main. Frozen pipes are rarely covered by insurance, and if your furnace happens to break down while you're away, freezing becomes a real possibility.
Keep your travel plans off of social media. Potential intruders will sometimes look at public social media pages to find their targets.
Consider installing a home security system.
Follow these above tips and you'll seriously reduce the number of hazards around your home during the holidays. Want to keep your home protected throughout the year? Get in touch with us – we offer Winnipeg home insurance.