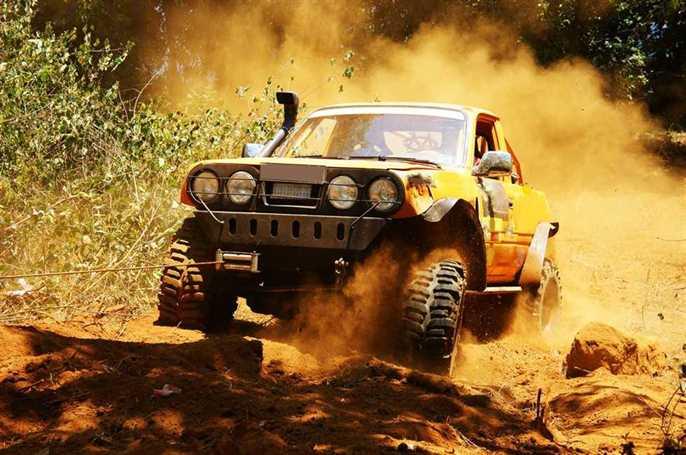 It's finally summer! Well, technically it's not summer until the solstice, but when you can go for a walk in a t-shirt and shorts or look out your window and see dandelions everywhere, it's summer, right? That means a lot of folks will be heading out to their cabins and bringing out their fancy toys – ATVs, dirt bikes, and other off-road vehicles. This is the perfect time for a quick primer on off-road vehicle insurance!
There are all kinds of vehicles that might be considered off-road, from the aforementioned ATVs to snowmobiles. Off-road vehicles (ORVs) must be registered in most circumstances. MPI considers an off-road vehicle to be "any wheeled or tracked motorized vehicle designed or adapted to travel cross-country on land, water, ice, snow, marsh, swamp land or other natural terrain". There are a few exceptions to this rule – golf carts, for example, aren't considered to be off-road vehicles, even though you're kind of travelling cross-country in them.
You don't have to register off-road vehicles that are only going to be used on your property. Owners of ORVs who live in remote communities abide by similar rules – they only need to be registered if they're going to be driven outside of the community. Other niche exceptions exist for ORVs owned and operated by the Department of National Defense and by certain commercial trappers and fishermen in designated areas.
Registering your ORV gives you a certain degree of insurance, but it might not cover everything you need it to. For example, you might be covered for injuries if you collide with another moving vehicle, but you wouldn't be covered if you collide with a tree. For these circumstances, you should purchase additional accident benefits for your ORV. This additional benefit covers you for injuries resulting from "operating or riding on any ORV, including colliding with something, getting on or off any ORV, or being run over or struck down by any ORV".
You can also purchase additional insurance for your ORV; these can include coverage for theft, fire, vandalism and hail, which aren't typically covered by collision coverage. Additional collision protection is also available in order to cover the cost of repairing or replacing your ORV in the case of collision.
While it feels like summer, you can't talk about ORV insurance without bringing up snowmobiles. To use many of Manitoba's snowmobile trails, you'll need a Snopass. They're relatively inexpensive (150$/year), and if you're caught without one, you could be fined $400. This isn't technically insurance-related, but we want to help you avoid fines where you can.
We're your Winnipeg auto insurance experts, and our expertise is here for you on the road or off it. Want to make sure you're properly covered? Get in touch with us. We can help you make sure you have the right coverage for all of your vehicles.