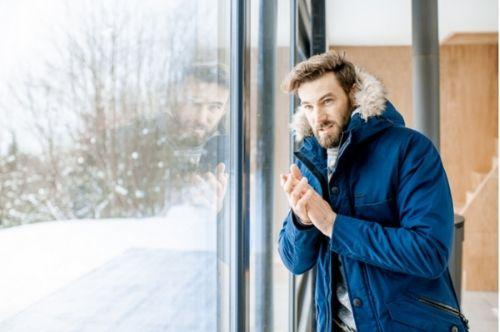 October was, for the most part, unseasonably warm – so warm, in fact, you might not have thought to prepare your home for the winter. We hope you took a look at our fall outdoor checklist for homeowners – we think you'll find it pretty useful if you've still got a bit of yard work to do.
Today, we turn our focus indoors. We don't need to tell you how cold it gets here in Winnipeg – a cozy, warm home is an absolute must. That's one of the reasons it's so important to prepare your home for the winter – you don't want anything to go wrong with your furnace or fireplace.
Make sure your windows and doors are properly insulated
When your furnace is working overtime because heat is leaking out through gaps near your windows, you're burning money – metaphorically, but almost literally. Take the time to ensure that your windows and doors are properly weatherstripped – you might also consider using shrink film over your windows to make sure the heat stays in.
Tend to your fireplace and chimney
One of the comfiest feelings on the planet: lazing by the fireplace in a blanket with a cup of hot cocoa during the holidays.
If that sounds like the kind of thing you're going to enjoy this winter, just be sure to get your chimney and fireplace professionally cleaned, first. A good chimney sweeping crew will inspect your chimney inside and out, ensuring that the chimney cap and crown are in good working order, that the flashing around your chimney and its caulking are sound, and a whole lot more. 
Most importantly, they'll clean out any creosote buildup in your chimney. Creosote chimney fires are extremely hazardous – getting your chimney cleaned at least once a year can seriously reduce your risk of a house fire.
Get an HVAC tune-up
By the time you're reading this, it's already a little late in the season for a tune-up. "Better late than never" applies here, though – the last time you want to find out your furnace needs repairs is on a -40°C day, or in the middle of the holidays when you have family over.
Furnace tune-ups are extremely useful. They mean fewer repairs down the line. They also mean your filter will be replaced, which leads to better air quality and less wear and tear. You should replace your filter regularly, not just when you get a tune-up – just be sure to switch your furnace breaker off before you do it.
Getting your furnace maintained will also reduce the risk of it shutting off while you're away on vacation. Frozen pipes can cause serious damage to your home, so if you plan on going away this winter, be sure to get a furnace tune-up – and have someone check on your home everyday, just in case. 
While you're getting your furnace tuned up, you can also ask for an AC tune-up. Obviously, you won't be blasting cold air during the winter – but you might be able to save on service call fees if you get maintenance on both your AC and your furnace at once.
Review your insurance policy
Reviewing your insurance isn't quite as tangible a way to prepare your home for the chilly season – but it's still important. From house fires to frozen pipes, there are a whole lot of hazards in the winter that can leave you out in the cold if you don't have enough coverage.
Want to review your coverage? Think you might need a new policy? Get in touch with us here at Reider Insurance. We pride ourselves on our customer service, so give us a call when you're feeling cozy – it might be the most pleasant insurance call you've ever made.